At its core, Fabulous Marines is a group of artists from the miniature tabletop community. We love this community and believe it should be a welcoming place for anyone. To that end, during the month of June, in honor of Pride Month, we are raising money for The Trevor Project.
Participants are encouraged to grab a model, any model, and get it ready for our fabulous virtual pride parade!
Content creators raise money on their platforms, we share our painting progress on social media, and some participants auction off their finished models.
When is this?
The main event is throughout June, although our participants are welcome to continue to raise funds via our official campaigns throughout the year.
During June is when we will feature live events and be promoting #FabulousMarines media on various platforms.
How Do I Participate?
Here's the main ways, with links to more info for each:
General Participation
Paint a model which inspires you for it to join our virtual pride parade.
Post photos of your model on social media and use #FabulousMarines
Completed models using the hashtag will be featured in our gallery
Gallery

Social Media Boosting
Actively look through social media posts using #FabulousMarines and interact with them!
Like, comment, share, and include a link to fabulousmarines.com/donate if no one else has mentioned it.
Don't engage in arguments, but honest discussion is a-okay!
Report trolls and hate-speech.
Guide for Best Practices

Fundraising
Content creators and influencers raising money in their communities.
Options include fundraising via StreamLabs Charity, YouTube Giving, eBay Charity Auctions, and hosting local events.
See All Options

Company Partnership
Companies and organizations can take part in fundraising and boosting awareness of the event.
Options include promoting the event, gift cards as giveaways, and donation to The Trevor Project in our honor.
See Ideas

Volunteer
Help out behind the scenes and keep the yearly event alive.
Volunteer Positions

Does It Have To Be A Games Workshop Model?
Nope! Although the event is named Fabulous Marines, any model can be made fabulous. Busts, animal companions, valorous knights, pride-themed terrain, digital art, and more are all welcome to join the virtual pride parade.
The event originally got its name during community discussions about promoting inclusivity in the wargaming community, and the name stuck.
What about the Weapons?
Since our marines will be prancing down the digital pride parade, you are encouraged to make their weapons a bit less threatening and more fun.
Here are some ideas for stylizing or converting your weapons:
Guns: confetti canons, bubble gun, silly string shooter, bedazzled, nerf guns
Swords: rainbow power swords, glow sticks, light sabers, wands, flags, canes
Can I Participate As An Ally?
Our allies are encouraged to participate - we need your support to make/prove the wargaming and mini painting communities can be safe spaces for LGBTQ+.
A united community makes the strongest impact.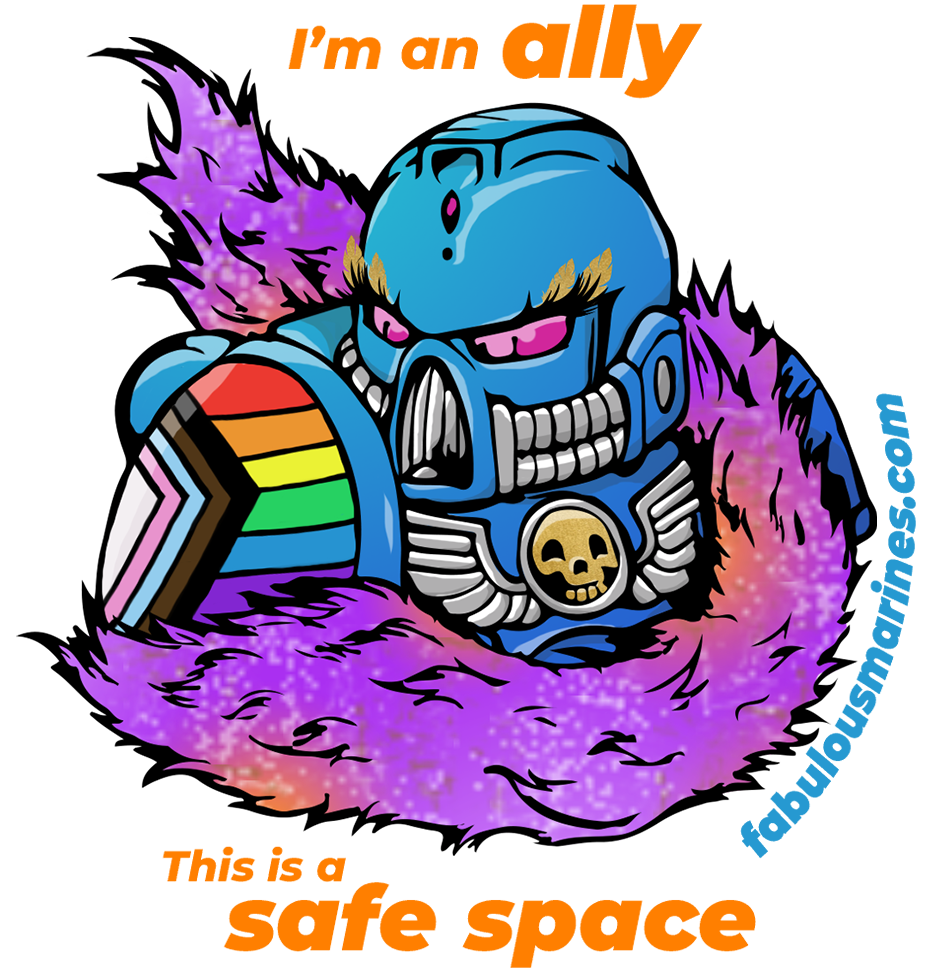 I have a friend who wants to participate!
That's fantastic! You can direct them to fabulousmarines.com/participate so they can choose how they want to get involved!
Any rules or etiquette?
Other than adhering to TOS, we ask that you be mindful of the words you choose when promoting the event. We're doing our best to make this a positive experience, so please avoid starting a fight with people who don't share our views. If you have someone trying to pick a fight, don't engage them. Report hate speech and block the user.
A phrase we've always found helpful to tell people: "We don't do that here"
It isn't confrontational, and simply sets rules and boundaries. If they push back in defense, the easiest response is "Sure, but we don't do that here." Remember that there's power in your words. We set examples for others in a hundred different ways in every interaction. Make it a positive one!
Why The Trevor Project?
The Trevor Project launch has worked to build a safer, more-inclusive world for the past twenty-five years. Their crisis counselors are trained to answer calls, chats, or texts from LGBTQ+ young people who reach out on a free, confidential hotline when they are struggling with issues such as coming out, LGBTQ+ identity, depression, and suicide. They also provide education, peer support, legal advocacy, and other tools, all in pursuit of their vision of a world where all LGBTQ+ young people see a bright future for themselves.
Many Fabulous Marines participants wish they had a resource like The Trevor Project when they were growing up and figuring things out. We understand the importance of helping people with feeling accepted and offering guidance during the turmoil of figuring things out about themselves and their relationships with others.
Additionally, we know the value of having resources available to help understand how best to support loved ones. We believe education on the topics of sexualities and genders is necessary for the entirety of the community as a whole, allies and LGBTQ+ folks alike.
Our Values

Donate

How Does Fundraising Work?
We are primarily raising money through StreamLabs Charity launch and YouTube Giving launch. Some of our artists are auctioning their work via eBay Charity launch. These platforms have no processing fees, so every last cent goes directly towards The Trevor Project.
View the Numbers

Can I win any prizes or unlock a stretch goal with my donation?
Some of our official fundraising creators have raffles and giveaways, but our genuine gratitude is the primary prize. Everyone involved is an unpaid volunteer, and any expenses come out of our own pockets.
How Does the Merch Store Work?
TeeSpring has discontinued the use of the "charity" logo on products, but 100% of the proceeds go directly to The Trevor Project, and it never touches our hands.
Here's the breakdown of the donation per item sold:
For the sake of transparency, at the end of June and again in December we'll share a screenshot of the charitable payout in the Number Breakdown section of the Archive.
View the Numbers

I have more questions!
You can email us for more specific information, or about the website.
Contact Us